I am not a very good listener. It's something I have been working on. Of these 13 good listener qualities interrupting, listening to respond, and giving advice are probably my most offensive habits. It actually takes a lot of work to hear someone else's narrative without simultaneously creating my own in my head. How rude!
There is an Afro-centric children's activity chant that uses words from the Twi language. Someone, usually a teacher, says, "Ago" which is a call for attention and the group responds, "Ame", which indicates a willingness to listen. When Kamala Harris said "I'm speaking" during the debate this week, she was essentially saying "Ago". She received no "Ame" in response. Millions of women recognized this perpetually disturbing pattern of communication with men. I also paused to reflect on whether I had ever been steamrolled in a conversation. No. Because, typically, I am a steamrollER.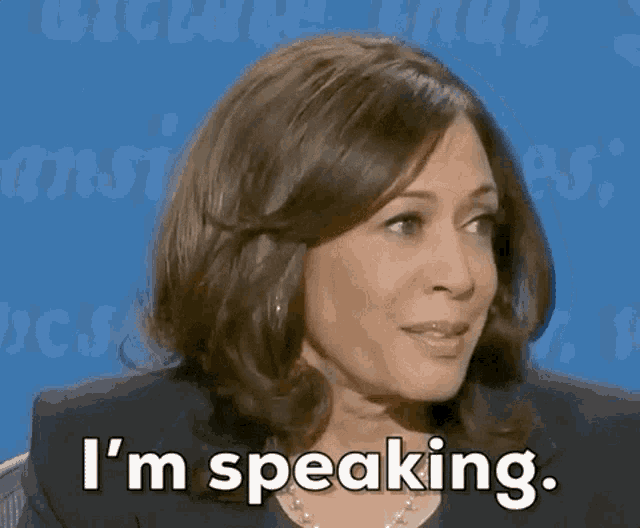 I could blame it on being a first born, alpha, big sister. Or a commanding, no nonsense teacher. But more likely is that I began mimicking the traits of people I perceived as noticeable (powerful?) and learned to assert myself accordingly. These traits are often presented as masculine forms of communication, but I've seen them apply to all sorts of bossy people. What is more certain is that the reception of these traits and the consequences for exhibiting them vary depending on your intersectional identity and the relationships involved. Context always matters. Being a Black woman, sometimes my assertiveness is expected and welcome and sometimes it is a problem. Knowing and accepting myself for myself, I deliberately try to choose environments that support the former.
During an educational training this fall, The Wells Collective, a group of fabulous equity and justice practitioners, presented their set of communication norms. Educational activities usually start off with a set of norms: be present, share the air, step up and step back, everyone's voice must be heard, listen respectfully and actively, refrain from judging etc.. One of the first classroom activities is usually to establish such norms to guide communication practices amongst students and teachers. One struck me as particularly powerful simply because I had never heard it before: Listen as though you might be wrong.
Wrong? I might be wrong? As in not right? Whoa. This little nugget has been transformative.
Speaking and Listening are actually skills we are supposed to be teaching in school. The Common Core Standard for English Language Arts includes a whole section on them. You start off in Kindergarten with the expectation that children will "speak audibly and express thoughts, feelings, and ideas clearly". In 2nd grade you move to "gaining the floor in respectful ways", "listening to others with care", and "building on others' talk in conversations by linking comments to the remarks of others". By the time students are in 7th grade, they are practicing how to "acknowledge new information expressed by others and, when warranted, modify their own views" and "work with peers to promote civil, democratic discussions".
In schools, we basically expect and assess the opposite of the behavior being shown in the national debates the last few weeks. Imagine those conversation patterns taking place between two students or two teachers in a classroom. What would we think? What would we expect to happen next? How are the consequences so lopsided? Poor conversational skills will get you sent to the principal's office in middle school. But being a horrible listener can also get you elected president? Make it make sense!
Many of us are terrible listeners because listening is not valued very much in American Capitalist culture. We are praised far more for the words coming out of our mouths than the ones going into our ears. "I hear you, but…" is a commonly accepted response to any perspective or opinion. Articles about listening better are usually focused on improving romantic relationships and friendships – si charmant. If you want to perform better at work, you focus on speaking – more loudly, more clearly, more assertively – just MORE. We worry about the quiet people. The ones sitting back, withholding their ideas, not voicing their opinions, probably judging, being so suspicious with their listening.
The academic area of feminist process has been helpful in understanding the roots and consequences of communicating to dominate. I first heard about feminist process through a facebook group that aspired to operate via its principles. We were going to take a feminist approach to group dynamics by valuing cooperation over competition and conjoining the goals of our group with our relationships. (Full disclosure: I did not understand what any of this meant at first). The idea was to disrupt the patterns that usually control life in our United States – squeaky wheels getting grease and what not. I was asked to question why women are usually socialized to adopt male patterns of communication by demanding to be heard and respected ("I'm speaking"), but men are rarely expected to demonstrate that they are, in fact, listening. Feminist process shifts the expectations and centers the means over the ends. How we communicate is as important as what we communicate. Novel!
Another disruption to my understanding of appropriate communication was working at a Quaker school. Quaker schools deeply value silence. There is a lot of it. I can still command a group of children to be silent for an indefinite period of time. Even with children unfamiliar with Quakerism it only takes three tries. Some people experience Quaker silence as a form of emotional oppression. I personally love it. Even though I no longer work at a Quaker school I find myself still using the norms I learned there. During a Quaker meeting there was no expectation that you speak. It was perfectly normal for 30 or 40 minutes to pass where no one spoke. When someone did speak the expectation was that you were listening. And you demonstrated this listening by not speaking immediately after they spoke – you gave their words space. A meeting with no space and too much mindless sharing was called a "popcorn meeting" and a popcorn meeting was a sign of failure. One of my efforts to improve my listening skills involves giving people's words space. I deliberately pause and reflect on whether I heard them. Sometimes I thank them. It comes off weird to some, I suppose, but hey – I'm listening!
Senator Harris's moment reminded me of one other I heard about this summer while participating in the Girl Trek Bootcamp: Fannie Lou Hamer's appearance at the 1964 Democratic National Convention. I encourage you to listen to or read her entire speech.
People were scared of Fannie Lou Hamer talking. President Lyndon B. Johnson was scared of Fannie Lou Hamer talking. So scared he scheduled a press conference in the middle of her speech so that news outlets would have to cut her off and air his remarks instead. But later that night, the news outlets aired her entire speech. Mrs. Hamer asserted her right to keep talking and America responded, "we are listening".
Ago.
Ame.
More of that, right?